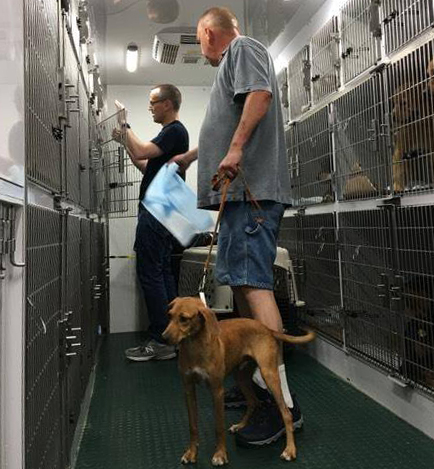 Late last night, ARF's transport team arrived back safe and sound from Camden, South Carolina with 25 dogs. Our rescue partner, Fostering Foster, removed these dogs from harm's way in Horry County, an area in South Carolina hit hard with flooding after Hurricane Florence. There is much more work to be done. ARF is committed to bringing more animals to East Hampton, and we will be traveling down south again in the coming days. Special thanks goes to our friends at our friends at the Southampton Animal Shelter Foundation, Bideawee and Kent Animal Shelter who have joined us to find new homes for these animals.
Adoptions at this time are critical in order for ARF to do more. Our capacity to help is limited by space. Please consider adopting a cat or dog in the next few days. Each adoption allows us to save another life. View Our Pets.
Thank you to all who donated money and supplies to help us and our furry friends in need, and thank you for all the ways you make our work possible!
Photo: ARF's Executive Director, Scott Howe and Tim Hill loading the ARF Rescue Transport van, courtesy of Fostering Foster Animal Rescue
September 13, 2018
Hundreds of ARFans have been saved from South Carolina over the last ten years, and ARF stands ready to help our partner, Fostering Foster in Camden, SC, and other rescues in the south who have already pulled animals from shelters along the coast at risk from Hurricane Florence. ARF has committed to bring these animals to East Hampton, and we will be traveling with our transport vans as soon as it is safe to do so.
Our capacity to help is limited by space. If you are considering adopting a cat or dog, doing so now would make a critical difference for the welfare of animals impacted by the hurricane. ARF has some truly wonderful teenage and adult cats and dogs available for adoption, and their spaces will be needed urgently in the coming days.
We welcome donations of food for cats and dogs, as well as many needed supplies (see list below) to take with us to South Carolina. You may drop them off at the ARF Adoption Center or our Mobile Adoption Van through Sunday, September 16, at 5 PM. Your cash contributions at this time will allow us to act quickly and take animals that may need special care.
Thank you for all the ways you make ARF's work possible!
Needed supplies:
ADULT DOG FOOD
BABY FORMULA
BABY WIPES
BATTERIES
BLEACH
BUNGEE CORDS
CAN OPENERS
CAPSTAR/FLEA PREVENTATIVE
CAT FOOD
CAT LITTER
CLOROX WIPES
DAWN DISH SOAP
DIAPERS
FIRST AID SUPPLIES
GARBAGE BAGS (HEAVY DUTY)
HAND SANITIZER
IBUPROFEN
INSECT REPELLENT
NEOSPORIN
PAPER FOOD BOWLS
PAPER TOWELS
PERMANENT MARKERS
SPRAY BOTTLES
TARPS
TEMPORARY PAPER COLLARS
TOILET PAPER
TOWELS
WATER (GALLONS AND BOTTLES)
WEE WEE PADS