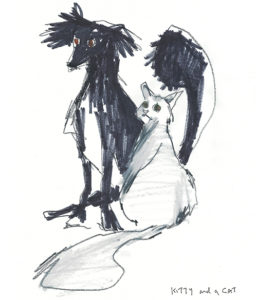 On Saturday, August 17th the Animal Rescue Fund of the Hamptons will host the Bow Wow Meow Ball, to honor fashion designer and entertainer Isaac Mizrahi with the Champion of Animals Award, a loyal supporter of ARF and a compassionate friend to animals in need.
The evening's celebration of ARF's life-saving work will take place on ARF's 22-acre campus in Wainscott. Guests will enjoy cocktails, followed by dinner catered by Olivier Cheng within an elegant setting. Afterwards, the party will continue with dancing to music by the Peter Duchin Orchestra. Over 400 high-profile guests from New York and the Hamptons are expected to attend the magical night. All proceeds will benefit ARF, a regional leader in New York for the rescue and adoption of cats and dogs.
The animals in ARF's care come from animal control centers, high kill shelters across the country, and from people who can no longer care for their pets. In 2019, ARF will intake over 1,400 dogs and cats at its state-of-the-art Adoption Center. ARF provides full medical care—including spaying and neutering—to all its animals in addition to humane care for their basic needs. Once medically evaluated and socialized the dogs and cats are made available for adoption at its Adoption Center and through its mobile adoption van and offsite events held across the greater New York region. Since its inception, ARF has rescued more than 28,000 cats and dogs and placed them with loving families.
Joining in the festivities this year will be a proud group of ARF cats and dogs available for adoption. The Bow Wow Meow Ball event is an important evening as it raises funds that are vital to the organization and its mission.
The evening will also include a live auction, a silent auction featuring one-of-a-kind luxury items, unique arfITECTURE cat and dog houses—works of art created by Donna Karan and Gabby Karan de Felice, Robert Wilson and Steven Gambrell along with top architects and builders, as well as an online auction with charitybuzz.com.
Special thank you to our event sponsor Fetching Fields. Tickets start at $750. Click here to purchase tickets.
ABOUT ISAAC MIZRAHI
Each October since 2010, Isaac has championed ARF's annual Stroll to the Sea Dog Walk, which he calls his favorite event of the year. He first participated as the event's emcee for its popular contests, like the infamous Pooch Who Can Smooch, and in each year since then he has created an original work of art for the Dog Walk's invitation and much-sough-after t-shirt. Isaac's warmth and wit are a perfect match for the Walk.
ARF's mission is very close to Isaac's heart. He and his husband Arnold have two rescue dogs: Dean, a Beagle-Jack Russell Terrier mix, and Kitty, a Collie mix, and Isaac and Arnold can often be found volunteering at ARF, walking our own resident dogs awaiting adoption.
More well-known is Isaac's success as a fashion designer and entertainer. Isaac has worked extensively in the entertainment industry as an actor, host, writer, designer and producer for over 30 years. He is the subject and co-creator of Unzipped, a documentary following the making of his Fall 1994 collection which received an award at the Sundance Film Festival. He hosted his own television talk show for seven years, has written three books, and has made countless appearances in movies and on television. Most recently, he has performed cabaret at venues across the country and toured with his new show, I&Me.
Isaac also has his own production company under which he has several projects in development in television, theatre and literature. His memoir, I.M., was published in February 2019.
Original Sketch above "Kitty and a Cat" by Isaac Mizrahi. Photo of Isaac Mirahi on right with his two rescue dogs, Kitty and Dean.