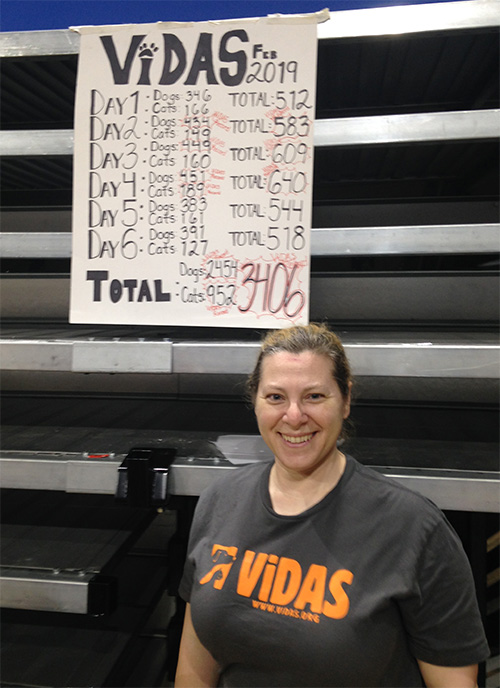 ARF announces the return of its Medial Director, Dr. Christine Asaro, DVM, from a volunteer spay/neuter clinic in Puerto Rico. Working with the non-profit organization ViDAS, Dr. Asaro donated her time to their current mission, The Spayathon for Puerto Rico. Participating in one of the organizations four clinics to be held on the island, the six-day trip from February 3 – 9, aided in 3,406 animals being safely spayed/neutered and vaccinated.
ARF has had a commitment to helping homeless animals on Puerto Rico for over a decade, and shortly after Hurricane Maria in the Fall of 2017, ARF headed to Puerto Rico for two rescue missions which brought more than 200 animals to safety on Long Island to the Adoption Center in Wainscott. Since the devastation, pet overpopulation has become an increasing problem in Puerto Rico. Not only is there a need for sterilization, there are growing concerns for the public's assistance as more cats and dogs contract rabies on the island. Dr. Asaro knew she could do more to help and applied to ViDAS. Established in 2002, ViDAS (Veterinarios Internacionales Dedicados a Animales Sanos – International Veterinarians Dedicated to Animal Health) helps assemble teams of veterinarians, veterinary technicians, veterinary students, and animal–loving volunteers to travel internationally to areas of need providing free spay and neuter services for dogs and cats, to combate pet overpopulation, while working with the local community to provide education to people and aid to local veterinary groups to spark positive and sustainable change. Dr. Asaro was honored to have been part of the group and said The Spayathon "experience was truly rewarding."
The Spayathon for Puerto Rico is a coalition of 26 organizations that have been brought together by the Humane Society of the United States to champion an island-wide spay and neuter campaign in Puerto Rico. As a collective group, they are aiming to safely spay and neuter over 30,000 dogs and cats through four free, high-quality, high-volume spay and neuter clinics held between June 2018 and May 2019. The February Clinic alone helped more than 3,000 animals with a team of 50 people, 20 of which were surgeons and to date more than 17,000 animals are now living healthier lives due to this program.
Photo: Dr. Christine Asaro shows off the daily tallies of surgeries for the February Spayathon.