[img responsive="true"]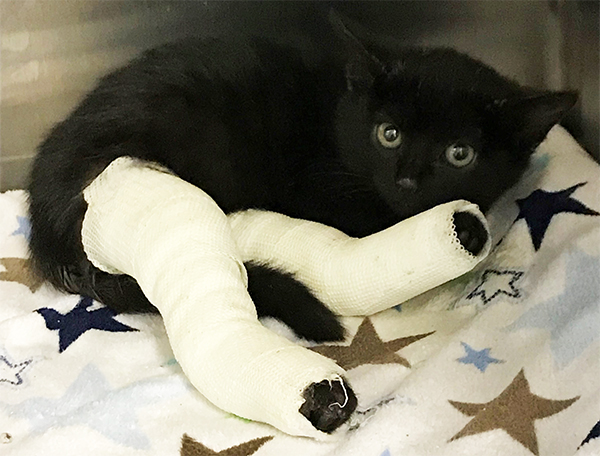 Earlier this year when the record-breaking, brutal cold had a hold on the Northeast, this tiny black kitten was out on her own – barely surviving. Luckily, this kitten, now named Elsa, was found on a door step. How she got there no one knows for sure. Frozen and injured, Elsa survived the night and was brought to a nearby animal hospital by a good Samaritan. Her prognosis was grim, and her future was uncertain. Because Elsa was a stray, ARF was called to help through our Operation Cat program.
ARF's medical team quickly went to work. In addition to the toll of the brutal cold, it appeared that both of Elsa's femurs were completely broken. Even so, ARF knew we could save her. Elsa's hind legs were placed in casts to allow her bones to heal. After months of observation and recuperation, Elsa is now up and about doing wonderfully. Her right leg has completely healed and while she can use her left hind leg, her left knee is not able to flex completely.
Four-month-old Elsa is now healthy and is finally looking for her forever home. This sweetheart of a kitten has been through a lot in a short time. Please consider giving her very own fairy tale ending – the home she deserves.