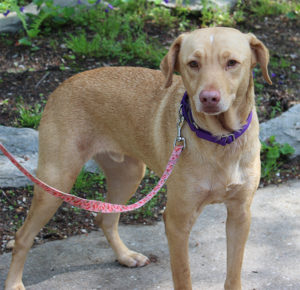 On Friday, May 10, ARF received its second transport of dogs from Santuario Canita, Puerto Rico, through the help of our Floridian rescue partner, Big Dog Ranch Rescue. Big Dog Ranch's transport crew made their way north last week, making stops along the way to attend to their furry cargo as well as drop off dogs to numerous rescue organizations. ARF was their last stop before they headed west to JFK, to pick up dogs saved from China ahead of the brutal Yulin meat festival. ARF received 13 dogs in this transport and needs the help of volunteers to walk them while they are in quarantine, waiting to been medically cleared for adoption.
To find out how you can help contact Jake at jake@arfhamptons.org or call him at 631.537.0400 x207.
Photo: Chad is one of the dogs ARF received from Puerto Rico.