Testimonials (con't.)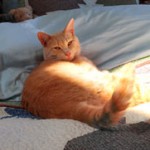 "The whole adoption process went very smoothly and was actually fun. You can tell the staff really enjoys the animals. Foxy likes his new home but he misses his friends at ARF!"
-Ken and Chris Hamilton adopted Foxy in the winter of 2013.
---
"Klaus is a very happy, well-adjusted New York City dog. Klaus took right away to life in the Big Apple, and continues to thrive here in Manhattan. He spends hours a day in Central Park, both on and off leash, enjoys the benefits of his own private dog walker and his own private trainer, has slews of neighborhood doggie friends, and has Park Avenue doormen who open the door for him as he comes and goes from his apartment. But the real winners in this relationship are Peter and me. Klaus is an absolute joy who both makes us laugh and touches our hearts every day. We can't imagine our lives without him. Thank you, ARF!"
-Caroline and Peter Schneirla adopted Klaus in December 2011.
---
"Our now 11-year-young 'puppy' (Cody) brings us light and joy every day!"
-Lynne C. Weinlandt, Real Estate Sales, Saunders and Associates, adopted Cody in the summer of 2007.
---

"Little did we know or expect all the love and happiness that adopting our little boy would bring. Rocco is the best thing that has ever happened to us. Thank you, ARF, for such an easy and pleasurable adoption experience, and most of all, thank you for Rocco!"
-Anthony, WEHM Morning Show host, and Dominica adopted Rocco in April 2012.
---

"Thomas, a perfect cat in every respect. I forgot right away about his Feline Leukemia (FeLV) status. He loved to play, ate well and grew into a beautiful young adult, affectionate and grateful for any and all attention. He enjoyed holidays. I felt privileged to give him a true beloved house- cat life for as long as he needed to complete his journey here."
-Eric Dever, artist, adopted Thomas in 2011.
---
"Bella came into our lives a year and a half ago, having been brought up from Rincon, Puerto Rico, by a Montauk surfer who found her on the beach there. She is half Cavalier, half Papillon, half Jack Russell and half who knows, but she is a gentle, kind, attentive girl who loves life. We are happy to give her a home, both in the Hamptons and in the City. We had gone to ARF looking for a dog. We came home with Bella, all cleaned up, gone through medical, brushed and groomed and wagging her tail."
-Dan Rattiner, founder of Dan's Papers, and Chris Wasserstein adopted Bella in 2012.
---

"We adopted Elton and Kiki as kittens just days before Hurricane Irene hit and we couldn't be happier with them. They make a big difference in our life. They were in excellent health when we adopted them, and the team at ARF could not have been better — they were supportive throughout the whole process."
-Kevin McCarthy and Mark Webb adopted Elton and Kiki in August 2011.
---

"Olie and I, we've been together since she was three months old. Now seven, she is in her prime…Great dog. Thanks ARF."
-Cliffeton Green, Saunders Real Estate, adopted Olie in 2005.