ARF's Top Ten
If you are thinking about adding a pet to your family, please consider one of these worthy animals below. For one reason or another, these cats and dogs have been overlooked at the adoption center and we are hoping to bring some attention their way. All are deserving of a loving home.
For more information on any of these animals, please contact adoptions@arfhamptons.org or call 631.537.0400 x203.
Papito, 2-years-old
Papito is a Chihuahua mix who was sadly born without eyes due to a congenital abnormality. This happy dog is all about the love: the love of people, toys and other dogs. We are seeking a quiet, adult-only home for this very special young man.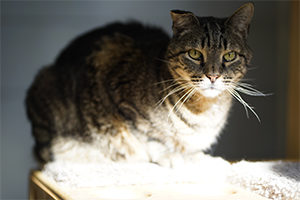 Sammy, 9-years-old
Sammy is a handsome and regal gentleman ready for a home of his own. A sunny window and a comfy spot to hang out in are all this nine-year-old guy requires. (Photo by Will Yennie)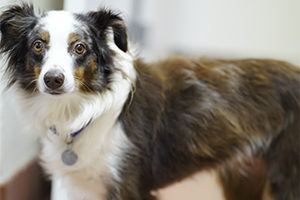 Fiona, 4-years-old – ADOPTED!
Beautiful Fiona is a Australian Shepherd who spent her whole life as a breeding mom in a puppy mill. She is a bit shy on first meeting but once she warms up, she'll wiggle her tail to let you know how happy she is to meet you. She likes other dogs and seems to have has no interest in cats. Due to her shyness, we are recommending a quiet home with someone to love her for the very first time is what this incredible girl deserves. For the right family, ARF will waive her adoption fee, thanks to the generosity of the Kit Kat Fund. (Photo by Will Yennie) See Fiona out on a walk and more.
Pom Pom, 13-years-old
Pom Pom was surrendered by her owner, after he fell sick and he couldn't take care of her any longer. Pom Pom is a very sweet, quiet, beautiful senior lady that would love to sit in the sun or on someone's lap and eat bon-bons all day, but she can't since she is diabetic. She does require insulin injections twice a day and a special diet to keep her blood sugar regulated; this illness hasn't dampened her spirits, she is full of life and has much love to share. Won't you please open your home to this beautiful lady! See a video of Pom Pom.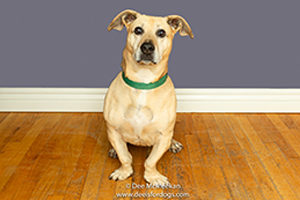 Petunia, 14-years-old
Petunia is a young-at-heart-senior Hound mix who was surrendered when her owners could no longer care for her. She loves to give kisses, take long walks and is always up for a good road trip. Help this loving golden girl get back in a home with a loving family of her own. (Photo by Dee McMeekan)
Nitro, 6-years-old
If you are looking for a cat with swagger, good looks, and a penchant for the ladies, look no further than Nitro. He's an active boy who gets along with other kitties but may be too much for small children. (Photo by Sole Riley)
See a video of Nitro in the cattery.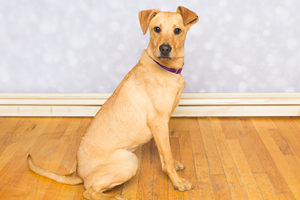 Scooter, 1.5-years-old – ADOPTED!
Scooter is an incredibly affectionate one-and-a-half-year-old Lab/Shepherd mix who loves to play. He enjoys the company of other dogs and is fine with cats. He knows basic commands, and he's eager to please. An experienced dog owner with another dog would be ideal for this lovable boy. (Photo by Dee McMeekan)
Caillou, 3-years-old
This handsome man with the striking black tail was left at the shelter as a kitten over two years ago. Caillou is a sweetheart, who enjoys the company of other cats and likes dogs! All he wants is a place to bird watch and sunbathe. Is that too much to ask?
Lady, 2-years-old – ADOPTED!
Looking for a beautiful young Hound to call your own? This girl has it all! She likes all other dogs, has no problem with cats, and likes children, but because of her size, older children are recommended. She is social and sweet, walks well on a leash, and is housebroken. Like all Hounds, she does follow her nose, so leash walking or a fully fenced yard are a must for this lovely girl. (Photo by Dee McMeekan)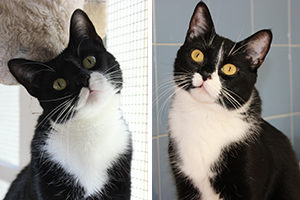 Jaylee and Irving, almost 2-years-old
Jaylee and Irving came to ARF as shy kittens through the Operation Cat program. ARF staff and volunteers worked hard socializing them, and now they are friendly and playful. These gorgeous tuxedo cats would love nothing more than a home together. Pet them and give them tuna treats and they will love you forever.