ARF's Top Ten
If you are thinking about adding a pet to your family, please consider one of these worthy animals below. For one reason or another, these cats and dogs have been overlooked and we are hoping to bring some attention their way. All are deserving of a loving home.
Combined with daily expenses of food, training, supplies, and cleaning, it costs nearly $500 a week to make our shelter a home for each cat and dog in our care.
For more information on any of these animals, please contact Bridget@arfhamptons.org or call 631.537.0400 x203.
Shadow, 3-years-old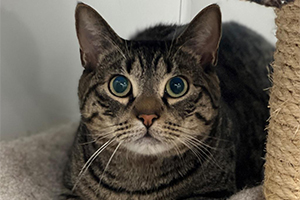 Three-year-old Shadow is a handsome tabby who came to ARF as a kitten through our Operation Cat program. Shadow can be an introvert at times, but once he rolls over and shows you his belly for some pets, you know he's a happy kitty. His coat is silky soft, and his purr is sure to melt your heart. Shadow gets along with other cats, but he enjoys his independence too. Give him a chance to be the great companion we know he can be. Fill out an application to meet Shadow.
Sahteene, 6-years-old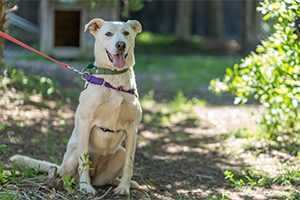 Six-year-old Sahteene is a beautiful white Shepherd mix who is very smart and a bit silly. She is affectionate, and bonds quickly with people but, she prefers to be your one and only pet in the household. She knows her basic commands and wants to learn more. Sahteene is a great dog and will need a patient and understanding owner who can continue her training at home. Give this girl a chance, and she'll repay you in love. Fill out an application to meet Sahteene. (Photo by Will Yennie)
Julie, 4-years-old
Julie was rescued from a hoarding situation. Her light green eyes are mesmerizing, and her affection can be bought with the help of her favorite chicken treats. This beautiful and independent kitty is low-maintenance and gets along well with other cats, she just needs the right person who can help her come out of her shell. Fill our an application to meet Julie.
Nova, 2 -years-old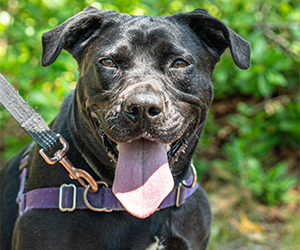 Nova may be two years old, but she still plays like a puppy! This silly girl is outgoing, social and loves to play with toys. Because of her exuberant personality, we suggest a home with children older than 12. If you're looking for an adventure buddy who will always keep a smile on your face, Nova is your girl! Fill out an application to meet Nova. (Photo by Dee McMeekan)
Janet, 4-years-old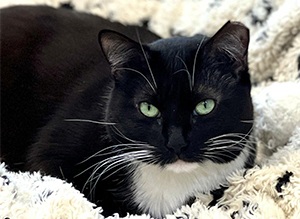 This beautiful tuxedo cat was found as a stray by an Operation Cat volunteer who noticed she was extremely friendly. Janet gets along with other cats and makes the cutest chirping noises to get your attention. She will make a great companion, we just need someone to give her a chance. Fill out an application to meet Janet.
Buckee, 4-years-old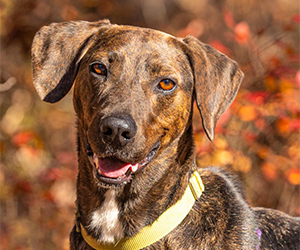 Buckee is a handsome boy who was rescued from Louisiana with support from the Irving and Phyllis Millstein Foundation for Animal Welfare. Despite a rough start in LA where he went untreated for heartworm, this four-year-old Hound mix is friendly and full of energy. His tail wags nonstop as he curiously takes in the world around him. Buckee is good-natured and loves to greet people, but he can be a bit particular about his canine friends. He is currently working on his obedience training, and he is eager to please, especially if treats are involved. Fill out an application to meet Buckee. (Photo by Dee McMeekan)
Emmy, 2-years-old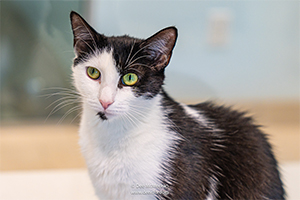 Emmy has captivating green eyes and weighs only 6.9 pounds. She came to ARF through our Operation Cat program and is simply too friendly to be feral. She loves a good snuggle, but prefers to catch her zzzz's under a blanket. As far as she's concerned, the more treats she gets the better. Emmy is a fantastic feline who would be a great addition to any family. Fill out an application to meet Emmy. (Photo by Dee McMeekan)
Fritz, 7-years-old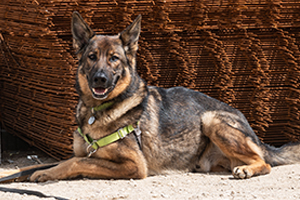 This gorgeous German Shepherd is very intelligent and loves to show off his obedience commands. Grab a soccer ball or a toy and this boy is ready to play! A few long walks and lots of treats is all it would take to make him your loyal and loving companion. Fritz wants to be your one and only pet, and he has plenty of love to go around. Fill out an application to meet Fritz. (Photo by Mark Kopko Photography.)

Crystal, 5-years-old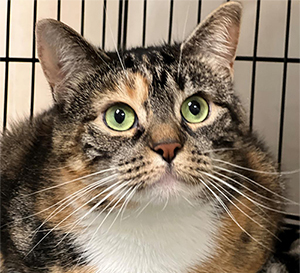 With her piercing green eyes, whiskers that go on forever, and her adorable white feet, Crystal is a stunner! Crystal found herself at ARF this past spring and she is finally warming up to shelter life. No longer frightened and confused, Crystal now loves to play, and her favorite pastime is to catch her little mouse toys with her paws – it's really quite amazing to see. With some patience, a few treats and a lot of love, Crystal will be your best friend in no time! Fill out an application to meet Crystal.
Sassy, 4-years-old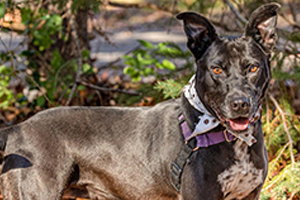 Sassy is a silly, goofy girl looking for a home as active as she is. She loves affection and can't get enough hugs! Sassy is very smart, and she has mastered her basic commands. She is also house-trained and walks well on the leash. Sassy wants to be your one and only dog, and she can't wait to have a person of her own to give her snuggles and treats! Fill out an application to meet Sassy. (Photo by Dee McMeekan)