ARF's Top Ten
If you are thinking about adding a pet to your family, please consider one of these worthy animals below. For one reason or another, these cats and dogs have been overlooked and we are hoping to bring some attention their way. All are deserving of a loving home.
Combined with daily expenses of food, training, supplies, and cleaning, it costs nearly $500 a week to make our shelter a home for each cat and dog in our care.
For more information on any of these animals, please contact Bridget@arfhamptons.org or call 631.537.0400 x203.
Phoebe, 16-years-old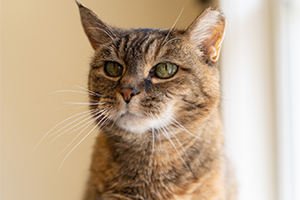 Phoebe is a sassy tabby of a certain age who is ready to become an Instagram star (though she claims TikTok is where all the cool cats are). Phoebe is bossy, vocal, and affectionate. She will crash your zoom meeting and send emails before you are finished typing. She will set your priorities straight, and prove that she is the cat you've always needed in your life. Fill out an application to meet Phoebe in person. (Photo by Will Yennie)
Sahteene, 4-years-old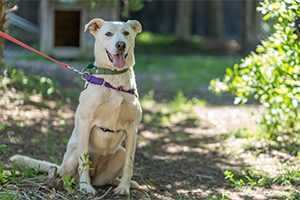 Four-year-old Sahteene is a beautiful white Shepherd mix who is very smart and a bit silly. She is affectionate, and bonds quickly with people but, she prefers to be your one and only pet in the household. She knows her basic commands and wants to learn more. Sahteene is a great dog and will need a patient and understanding owner who can continue her training at home. Give this girl a chance, and she'll repay you in love. Fill out an application to meet Sahteene in person. (Photo by Will Yennie)
Sushee, 1-year-11- months-old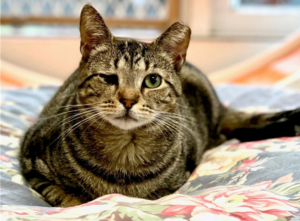 Sushee was found as a kitten on the street in bad shape last year, and due to a severe infection, he lost the use of his right eye. Now healthy, Sushee has developed quite a personality and craves the spotlight. He is a happy cat whose purrs can be heard from across the room. He is always looking for a rub or a scratch, especially around his ears or chin, and he will meow at you until he gets it. He gets along with other cats and boy does he love his wand toys. Do you have room for Sushee in your family?. Fill out an application to meet Sushee in person.
Hot Dog, 2-years-old
Hot Dog is a silly, two-year-old big puppy at heart who is full of fun. He has come a long way in his obedience training but there is still more work to be done, which should not be difficult – Hot Dog loves to work for food. He is easily excitable and strong, so a family with older children is recommended. Give this outgoing boy a home and he will be sure to put a smile on your face each and every day. Fill out an application to meet Hot Dog. (Photo by Dee McMeekan)
Sammy, 15-years-old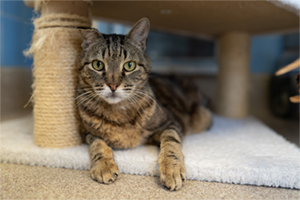 Sammy is quite the handsome, regal cat. Do you have a comfy spot by a sunny window? If so, Sammy will make himself right at home. He may take his time to fall in love, but once he does, it's forever! Sammy enjoys a thorough head scratch, and while he gets along with other cats, he cherishes his alone time. Sammy originally came to ARF from a city shelter, and he really wants to make the Hamptons his year-round home. This sweet soul is ready for a loving home of his own. Fill out an application to meet Sammy in person. (Photo by Will Yennie)
Smushie, 9-years-old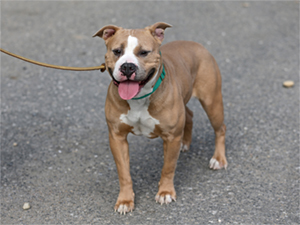 Smushie is a staff favorite. If you are looking for a cuddly, affectionate, love bug, Smushie is your girl. She knows most of her basic commands, although her down is a bit unconventional, as she will stretch her back legs outs out, and look more like a frog than a dog. Smushie will need to be an only dog, but do not worry this is how she prefers to live. All attention will be hers. She is housebroken and will have no problem adjusting to a new home. If love is what you want, Smushie is what you need. Fill out an application to meet Smushie in person. (Photo by Sole Marittimi)
Simon, 7-years old
This handsome feline has a lot of personality. Simon spends his days sunbathing, seeking attention and searching for his favorite treats. He is hoping to continue his life of leisure with you, and would do best as your only feline friend in the home where he will be sure to give you plenty of snuggles. Fill out an application to meet Simon in person. (Photo by Will Yennie)
Smokey Joe, 8-years-old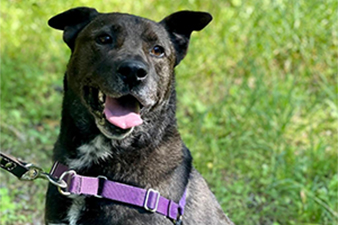 The first thing you notice about Smokey Joe is his soulful eyes. This adorable boy has an impeccable memory and bonds deeply with people he knows. His devotion is heartwarming. Smokey Joe is up on all his basic commands, and he is known to enjoy a good outing, like hiking trails in the woods, going to the beach or just a joyride in the car! Smokey Joe has been at ARF for far too long and the ARF staff continues to work with him on his fear of strangers, helping him to become the best dog he can be. Getting to know Smokey Joe will take a bit of time and will require multiple meetings. He would do best as the only pet in an adult-only home. Once Smokey Joe gets used to a new routine and new friends, he will make a for a loving and loyal best friend. Fill out an application to meet Smokey Joe in person. (Photo by Bridget Stonemetz)
Misty, 10-years-old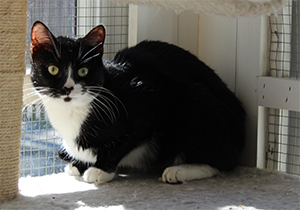 Misty is a darling, ten-year-old tuxedo cat who came to ARF from a city shelter, but she definitely prefers the quiet life. Most days you will find her perched up high bird watching. Like many of us, Misty suffers from allergies. With help from the Kit Kat Fund, ARF's medical team worked diligently to stabilize her condition through medication and diet. This petite beauty is now comfortable, and she is ready for a home. Misty is hoping, and so are we, that in a different environment, her condition could disappear. Help us find Misty a foster or forever home. Fill out an application to meet Misty in person.
Monica, 9-years-old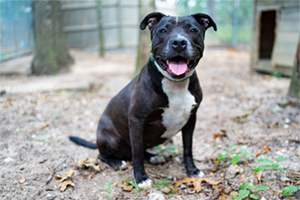 Just look at this happy girl! Monica is an extremely energetic, and affectionate nine-year-old dog who is described as the life of the party. She is social with people, loves to play and knows her basic commands. She likes most other dogs, but at times can be a bit particular about her canine friends. Because of her size and activity level, we recommend an experienced handler and a home with older children, where we have no doubt she will continue to flourish and make a great family pet. Fill out an application to meet Monica in person. (Photo by Will Yennie)