ARF's Top Ten
If you are thinking about adding a pet to your family, please consider one of these worthy animals below. For one reason or another, these cats and dogs have been overlooked and we are hoping to bring some attention their way. All are deserving of a loving home.
Combined with daily expenses of food, training, supplies, and cleaning, it costs nearly $500 a week to make our shelter a home for each cat and dog in our care.
For more information on any of these animals, please contact Bridget@arfhamptons.org or call 631.537.0400 x203.
Luna, 3-years-old
Luna is a beautiful, full-figured, three-year-old tortie who is outgoing and affectionate. She came to ARF after her family could no longer care for her, and she is hoping to find a new one soon. Luna will seek you out for attention, and she will eagerly climb into your lap to cozy up. Let's get Luna back in a home! Fill out an application to meet Luna.
Sahteene, 5-years-old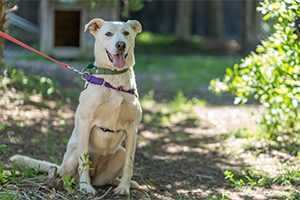 Five-year-old Sahteene is a beautiful white Shepherd mix who is very smart and a bit silly. She is affectionate, and bonds quickly with people but, she prefers to be your one and only pet in the household. She knows her basic commands and wants to learn more. Sahteene is a great dog and will need a patient and understanding owner who can continue her training at home. Give this girl a chance, and she'll repay you in love. Fill out an application to meet Sahteene. (Photo by Will Yennie)
Ms Crabtree, 9-years-old

Affectionately named Ms Crabtree, this beautiful tabby cat is actually quite sweet. Her favorite pastime is to lounge in her bed, usually under her blanket, and apparently, she does not like to eat alone. If you are looking for a low-maintenance cat to keep you company and enjoy a good meal with, make a reservation to meet her. Fill out an application for Ms Crabtree.
Zeke, 8-years-old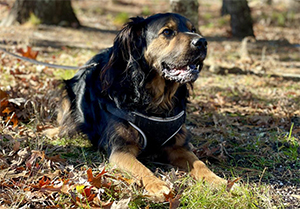 This beautiful boy came to Arf when his owner could no longer care for him. Once Zeke gets to know you, he is a friendly, smart and lovable boy. Zeke is a great walker, he is always looking back to you for guidance. He loves to sit for his favorite treat, string cheese! He may require a couple of meetings to get used to you, or perhaps just a long walk with treats may do the trick. Once he bonds, he is playful and outgoing with his people. If you're looking for a dog to be your best friend, Zeke is your guy! Fill out an application to meet Zeke.
Janet, 3-years-old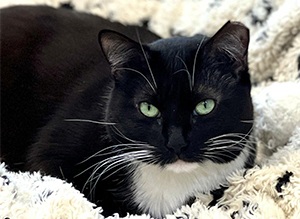 This beautiful two-year-old tuxedo cat was found as a stray by an Operation Cat volunteer who noticed she was extremely friendly. Janet gets along with other cats and makes the cutest chirping noises to get your attention. She will make a great companion, we just need someone to give her a chance. Fill out an application to meet Janet.
Stella, 5-years-old
Stella is a pretty girl, who loves to smile for the camera! She has most of her basic commands already, and would excel with continued positive training. Stella has so much fun playing with other dogs! Stella needs time to be comfortable with new people and having another dog in her house could be a great way to earn her trust. We recommend Stella meets her adopters multiple times before going home. With some time and patience, Stella could be a wonderful addition to your household. Fill out an application to meet Stella.
Simon, 7-years-old
This handsome feline has a lot of personality. Simon spends his days sunbathing, seeking attention and searching for his favorite treats. He is hoping to continue his life of leisure with you, and would do best as your only feline friend in the home where he will be sure to give you plenty of snuggles. Fill out an application to meet Simon. (Photo by Will Yennie)
Smokey Joe, 9-years-old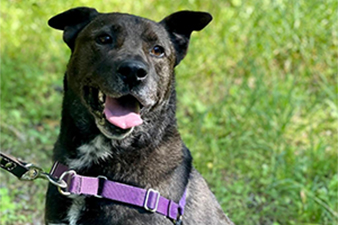 The first thing you notice about Smokey Joe is his soulful eyes. This adorable boy has an impeccable memory and bonds deeply with people he knows. His devotion is heartwarming. Smokey Joe is up on all his basic commands, and he is known to enjoy a good outing, like hiking trails in the woods, going to the beach or just a joyride in the car! Smokey Joe has been at ARF for far too long and the ARF staff continues to work with him on his fear of strangers, helping him to become the best dog he can be. Getting to know Smokey Joe will take a bit of time and will require multiple meetings. He would do best as the only pet in an adult-only home. Once Smokey Joe gets used to a new routine and new friends, he will make a for a loving and loyal best friend. Fill out an application to meet Smokey Joe. (Photo by Bridget Stonemetz)
Misty, 10-years-old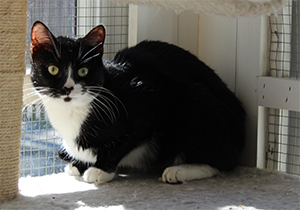 Misty is a darling, ten-year-old tuxedo cat who came to ARF from a city shelter, but she definitely prefers the quiet life. Most days you will find her perched up high bird watching. Like many of us, Misty suffers from allergies. With help from the Kit Kat Fund, ARF's medical team worked diligently to stabilize her condition through medication and diet. This petite beauty is now comfortable, and she is ready for a home. Misty is hoping, and so are we, that in a different environment, her condition could disappear. Help us find Misty a foster or forever home. Fill out an application to meet Misty.
Gordy, 5-years-old
Gordy is a loving and playful dog who has been working hard at building his confidence in new situations. This handsome, five-year-old Hound mix finds security and guidance in the people he knows, and once he bonds, it's forever. Gordy is a smart dog who knows his obedience commands and is eager to learn more. He is best known for his hugs and kisses! Will you give Gordy the chance to love you? Fill out an application to meet Gordy.