ARF's Top Ten
If you are thinking about adding a pet to your family, please consider one of these worthy animals below. For one reason or another, these cats and dogs have been overlooked and we are hoping to bring some attention their way. All are deserving of a loving home.
Combined with daily expenses of food, training, supplies, and cleaning, it costs nearly $500 a week to make our shelter a home for each cat and dog in our care.
For more information on any of these animals, please contact Bridget@arfhamptons.org or call 631.537.0400 x203.
Shadow, 2-years-old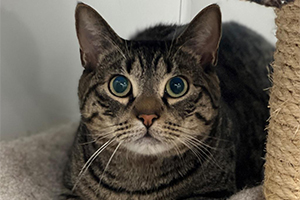 Two-year-old Shadow is a handsome tabby who came to ARF as a kitten through our Operation Cat program. Shadow can be an introvert at times, but once he rolls over and shows you his belly for some pets, you know he's a happy kitty. His coat is silky soft, and his purr is sure to melt your heart. Shadow gets along with other cats, but he enjoys his independence too. Give him a chance to be the great companion we know he can be. Fill out an application to meet Shadow.
Sahteene, 6-years-old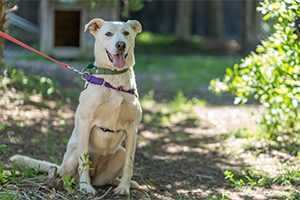 Six-year-old Sahteene is a beautiful white Shepherd mix who is very smart and a bit silly. She is affectionate, and bonds quickly with people but, she prefers to be your one and only pet in the household. She knows her basic commands and wants to learn more. Sahteene is a great dog and will need a patient and understanding owner who can continue her training at home. Give this girl a chance, and she'll repay you in love. Fill out an application to meet Sahteene. (Photo by Will Yennie)
Julie, 4-years-old
Julie was rescued from a hoarding situation. Her light green eyes are mesmerizing, and her affection can be bought with the help of her favorite chicken treats. This beautiful and independent kitty is low-maintenance and gets along well with other cats, she just needs the right person who can help her come out of her shell. Fill our an application to meet Julie.
Zeke, 8-years-old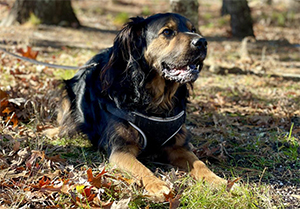 This beautiful boy came to ARF when his owner could no longer care for him. Once Zeke gets to know you, he is a friendly, smart and lovable boy. Zeke is a great walker, he is always looking back to you for guidance. He loves to sit for his favorite treat, string cheese! He may require a couple of meetings to get used to you, or perhaps just a long walk with treats may do the trick. Once he bonds, he is playful and outgoing with his people. If you're looking for a dog to be your best friend, Zeke is your guy! Fill out an application to meet Zeke.
Janet, 4-years-old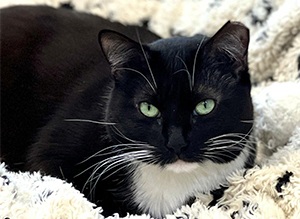 This beautiful tuxedo cat was found as a stray by an Operation Cat volunteer who noticed she was extremely friendly. Janet gets along with other cats and makes the cutest chirping noises to get your attention. She will make a great companion, we just need someone to give her a chance. Fill out an application to meet Janet.
Stella, 5-years-old
Stella is a pretty girl, who loves to smile for the camera! She has most of her basic commands already, and would excel with continued positive training. Stella has so much fun playing with other dogs! Stella needs time to be comfortable with new people and having another dog in her house could be a great way to earn her trust. We recommend Stella meets her adopters multiple times before going home. With some time and patience, Stella could be a wonderful addition to your household. Fill out an application to meet Stella.
Simon, 7-years-old
This handsome boy is the quintessential independent feline. Let's just say, Simon likes what he likes when he likes it, and when he doesn't, he'll let you know! Simon will tolerate a quick pet or scratch if you must, but what he really enjoys is his own sunny spot near a window to watch the birds and nature around him. His favorite time of the day is mealtime, and as far as he's concerned, the more snacks you give him the better! If you are looking for a beautiful feline who doesn't need to be the center of attention, then you need to meet Simon. Fill out an application to meet Simon. (Photo by Will Yennie)
Smokey Joe, 9-years-old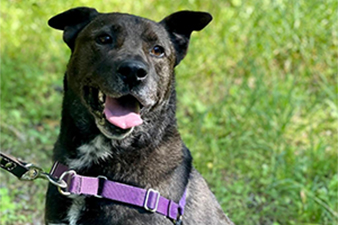 The first thing you notice about Smokey Joe is his soulful eyes. This adorable boy has an impeccable memory and bonds deeply with people he knows. His devotion is heartwarming. Smokey Joe is up on all his basic commands, and he is known to enjoy a good outing, like hiking trails in the woods, going to the beach or just a joyride in the car! Smokey Joe has been at ARF for far too long and the ARF staff continues to work with him on his fear of strangers, helping him to become the best dog he can be. Getting to know Smokey Joe will take a bit of time and will require multiple meetings. He would do best as the only pet in an adult-only home. Once Smokey Joe gets used to a new routine and new friends, he will make a for a loving and loyal best friend. Fill out an application to meet Smokey Joe. (Photo by Bridget Stonemetz)
Phoebe, 17-years-old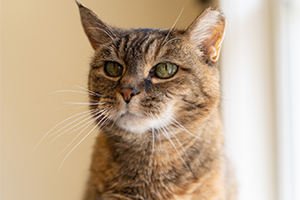 This sassy senior has lots to say and doesn't hold back. Phoebe knows what she wants: good food, lots of pets, and someone to love. She's happy to peacefully snooze the day away, and while she's moving a bit slower these days because of arthritis, she's ready to live out her golden years in a home that's worthy of her "cattitude." Fill out an application to meet Phoebe.
Gordy, 6-years-old
Gordy is a loving and playful dog who has been working hard at building his confidence in new situations. This handsome Hound mix finds security and guidance in the people he knows, and once he bonds, it's forever. Gordy is a smart dog who knows his obedience commands and is eager to learn more. He is best known for his hugs and kisses! Will you give Gordy the chance to love you? Fill out an application to meet Gordy.