ARF's Top Ten
If you are thinking about adding a pet to your family, please consider one of these worthy animals below. For one reason or another, these cats and dogs have been overlooked and we are hoping to bring some attention their way. All are deserving of a loving home.
For more information on any of these animals, please contact melissa@arfhamptons.org or call 631.537.0400 x203.
Phoebe, 15-years-old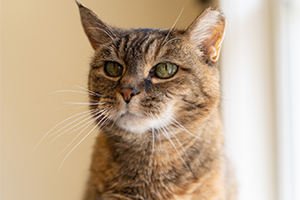 Phoebe is a sassy tabby of a certain age who is ready to become an Instagram star (though she claims TikTok is where all the cool cats are). Phoebe is bossy, vocal, and affectionate. She will crash your zoom meeting and send emails before you are finished typing. She will set your priorities straight, and prove that she is the cat you've always needed in your life. Fill out an application to meet Phoebe in person. (Photo by Will Yennie)
Eddie, 4-years-old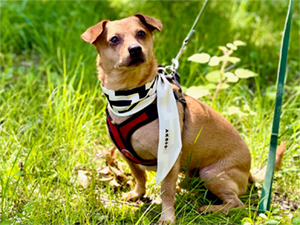 Chihuahua mix Eddie is a smart and expressive little guy. Once he gets to know you, he is playful and affectionate, and he will shower you with kisses. Eddie loves his walks, and when asked to go out, he will literally dance at the chance. He has had some resource guarding issues in the past but has come a long way with his training. He will need an experienced human companion to help him stay on the right path. Give Eddie a chance to stroll his way into your heart. Fill out an application to meet Eddie in person. (Photo by Bridget Stonemetz)
Abigail, 5-years-old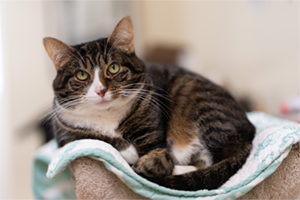 Abigail has been with ARF since 2017. She loves people and other cats. Although Abigail is a staff favorite, ARF is not a home. She seems to like a quieter lifestyle and this is something we can not offer in a shelter environment. Please consider helping Abigail, she is such a deserving cat! Like many people, Abigail suffers from asthma, which is now well-controlled with daily medication thanks to ARF's medical team. Through the Kit Kat Fund, ARF is able to provide Abigail's adopters with medication to make her transition to her new home seamless. Fill out an application to meet Abigail in person. (Photo by Will Yennie)
Gunner, 6-years-old
Gunner is a stunning Lab mix who is super smart and loves to show off his obedience skills. He gets along with some dogs but can play rough, so a dog his size would be best. He can be uncomfortable with new people, so we are suggesting multiple meetings with him prior to adoption. He is a nice boy who deserves a second chance at a life outside a shelter. Fill out an application to meet Gunner in person. (Photo by Will Yennie)
Sammy, 11-years-old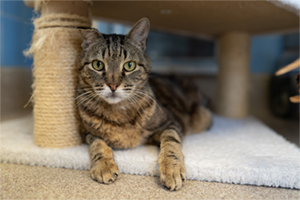 Sammy is quite the handsome, regal cat. Do you have a comfy spot by a sunny window? If so, Sammy will make himself right at home. He may take his time to fall in love, but once he does, it's forever! Sammy enjoys a thorough head scratch, and while he gets along with other cats, he cherishes his alone time. Sammy originally came to ARF from a city shelter, and he really wants to make the Hamptons his year-round home. This sweet soul is ready for a loving home of his own. Fill out an application to meet Sammy in person. (Photo by Will Yennie)
Smushie, 8-years-old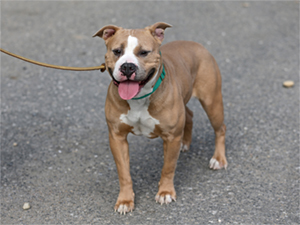 Smushie is a staff favorite. If you are looking for a cuddly, affectionate, love bug, Smushie is your girl. She knows most of her basic commands, although her down is a bit unconventional, as she will stretch her back legs outs out, and look more like a frog than a dog. Smushie will need to be an only dog, but do not worry this is how she prefers to live. All attention will be hers. She is housebroken and will have no problem adjusting to a new home. If love is what you want, Smushie is what you need. Fill out an application to meet Smushie in person. (Photo by Sole Marittimi)
Lillian, 1-years-old
Did you know orange tabby cats are typically male? This beautiful girl is a bit of a rarity. Lillian is also FIV+. Lillian doesn't require any special medications or treatments for FIV, and she should live a very full, happy, normal life. FIV is not contagious to humans, but can be transmitted to other cats, which is why we recommended that Lillian be the only cat in the household or live with other FIV+ cats*. She can be timid at first, but she loves a good head rub, and you'll know when you have found the perfect spot when she digs in and twirls around her bed purring.(*It is difficult to transmit FIV compared to other infectious diseases, but it is not impossible. As per our veterinarian, we err on the side of caution and Lillian's future adopter can make their own decision with the recommendation of their vet.) Fill out an application to meet Lillian in person. (Photo by Dan Goodale)
Jada, 12-years-old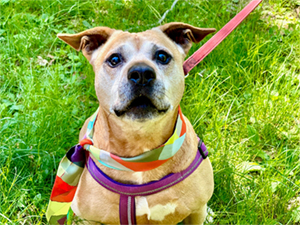 Jada came to ARF when her owner could no longer care for her. She is a very friendly girl and a total "people dog." She likes adults and children (kids 12+ are recommended), and gets along well with dogs her size (no small dogs or cats, please). Jada loves to play with tennis balls. She is housebroken and quiet and like many dogs that have lived in homes all their lives, would love to have a chance to join another family as soon as possible. As a part of her care at ARF, Jada was recently diagnosed with cancer and underwent surgery to remove the tumor. Jada has a good prognosis, but her cancer may return. Nevertheless, we want Jada to know once again life and love found in a home all her own. ARF will support Jada's foster or adopting family with follow-up medical care through the Kit Kat Fund. Fill out an application to meet Jada in person. (Photo by Bridget Stonemetz)
Misty, 9-years-old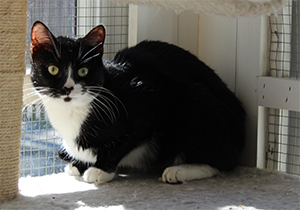 Misty is a darling, nine-year-old tuxedo cat who came to ARF from a city shelter, but she definitely prefers the quiet life. Most days you will find her perched up high in ARF's accounting office bird watching. Like many of us, Misty suffers from allergies. With help from the Kit Kat Fund, ARF's medical team worked diligently to stabilize her condition through medication and diet. This petite beauty is now comfortable, and she is ready for a home. Misty is hoping, and so are we, that in a different environment, her condition could disappear. Help us find Misty a foster or forever home. Fill out an application to meet Misty in person.
Monica, 8-years-old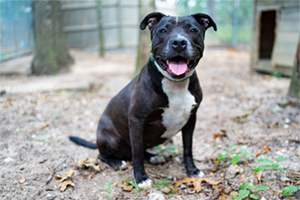 Just look at this happy girl! Monica is an extremely energetic, and affectionate eight-year-old dog who is described as the life of the party. She is social with people, loves to play and knows her basic commands. She likes most other dogs, but at times can be a bit particular about her canine friends. Because of her size and activity level, we recommend an experienced handler and a home with older children, where we have no doubt she will continue to flourish and make a great family pet. Fill out an application to meet Monica in person. (Photo by Will Yennie)