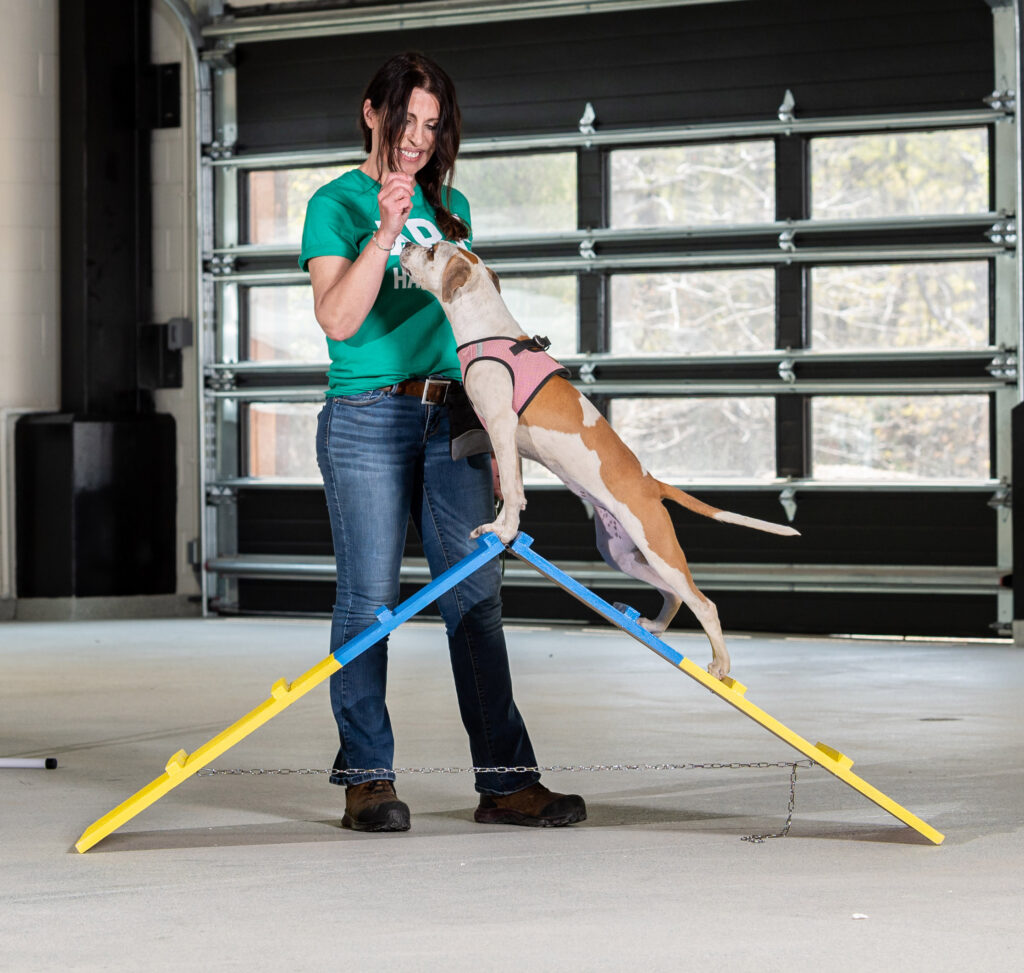 ARF Hamptons announces the return of our extremely popular and affordable dog training and socialization classes in the newly constructed William P. Rayner Training Center at the ARF Adoption Center. Inaugural classes include Puppy Preschool/Kindergarten, Dog Agility Enrichment, Doggie Mindfulness, and Therapy Dog Prep. Classes begin July 6 – 11.
A trusted source for adoptable cats and dogs on Long Island for decades, ARF has also been a reliable and affordable "go to" for dog training on the East End of Long Island. In 2021, ARF's Dog Training Program was suspended in order to break ground on Forever Home, a project that brought critical improvements to ARF's campus, including the William P. Rayner Training Center. This new 8,400 square foot training center accommodates year-round training, socialization, and enrichment in any weather, any time of year.
Training is an integral part of the human-dog relationship. It builds confidence, provides mental stimulation and strengthens their bond. Training is important for all dogs but especially puppies who need a strong foundation for socialization, obedience and to set boundaries.
Classes are offered in a group setting and all trainers are CPDT-KA (Certified Professional Dog Trainer-Knowledge Assessed) licensed and LIMA (Least Intrusive, Minimally Aversive) compliant. ARF firmly believes in positive reinforcement to yield positive behavior.
Classes:
Puppy Preschool
This class is for puppies aged 8-16 weeks. Classes focus on socialization, interactive skills and simple obedience.
Puppy Kindergarten
This class if for puppies aged 16-26 weeks. You will learn why and how to address unwanted behaviors and how to re-enforce desired ones. Classes are designed to build on foundation obedience skills, strengthen confidence and focus.
Puppy Love: Socialization and Enrichment
This class is for puppies 8-16 weeks of age and is a great opportunity for controlled social interaction and play. Your puppy can make new friends with other puppies and people. You will learn to observe and read your puppy's body language. We will explore different sensory experiences, to help your puppy cope with their expanding world.
Puppy Confidence: Socialization and Enrichment
This class is for puppies 16-26 weeks of age. Your puppy may start being a bit fearful at this stage of development. This class will help you recognize this and help them build confidence. We will explore confidence building exercises, puppy agility enrichment and other fun games. There will also be puppy playtime!
Dog Agility Enrichment: Small/Large Dog
Build the bond of trust between you and your dog while getting great exercise! Dogs and their handlers learn basic skills including ramps, jumps, tunnels and weave poles.
Small dog, 30 lbs. and under. Large dog, over 30 lbs.
Therapy Dog Prep
Therapy Prep Classes will prepare handlers and dogs for the Pet Partners therapy dog evaluation. The series of three classes will cover all the required obedience and therapy exercises that evaluators will use to determine a dog's suitability for registration as a Pet Partners therapy dog.
ARFans Social Club: Small/Large Dog
Do you have a dog friendly ARFan (ARF adoptee) looking to play with fellow ARFans? Maybe reunite with an old buddy or make a new friend? Come meet up in a controlled environment with ARF trainers for play socialization and fun activities! This class is limited to ARF adopters. Small dog, 30 lbs. and under. Large dog, over 30 lbs.
Doggie Mindfulness
When your dog doesn't listen, he isn't being stubborn or spiteful. Sometimes he just can't hear you because his mind is too busy. In this class we'll help your dog focus on you. Using Dr. Karen Overall's Relaxation Protocol and other attention behaviors, we'll help your dog reach a calm state of mind, a state of mind in which he can hear you and respond.
Trainer Bios:
Cindy LeRoy, CPDT-KA
Since childhood, Cindy has had a love for animals, rescuing strays and reuniting lost animals with their families. Cindy has worked at ARF since 2017. She started as an animal care associate, and quickly found her passion was animal behavior and she is now ARF's resident dog trainer. Cindy is a Certified Professional Dog Trainer – Knowledge Assessed and is also certified by Catch Canine Trainers Academy. Cindy feels most dogs can be helped with positive reinforced training and love.
Amy Kurtz, CPDT-KA
Amy found her passion as a dog trainer after careers in publishing, law and social services. She studied at the FetchFind Academy for dog training in Chicago and has volunteered at Chicago Animal Care and Control. Since moving to the East End, Amy has focused on growing her private dog training business 'Get Your Leash On.' Amy lives in North Sea with her 10-year-old springer spaniel, Dash. Yes, Dash is the dog who turned her into a dog trainer. Amy is looking forward to working at the wonderful new William P. Rayner Training Center.
Thomas Tulipan
Thomas is a licensed Pet Partners team evaluator and instructor who has spent over a decade sharing the love of his pets with people all over Long Island. In late 2018, Thomas started Pet Partners of Long Island, a group that allows handlers to come together, share visiting opportunities, and encourage one another in the therapy animal work that is truly changing lives each and every day in Long Island.
Class sessions range from $175 to $300. Discounts available for puppies adopted from ARF for certain classes.