Testimonials
"In January of 2014 I started volunteering at ARF. It was the greatest decision of my life!  I mentioned that if they ever got a tuxedo with a white-tipped tail, I would want him. Two weeks later, Piglet, now known as Roscoe, showed up. What a guy he turned out to be. He follows me all over the house, greets me at the door with a "meow" when I come home, and snuggles in bed sometimes, and I would not have it any other way. He settled in with my nine other indoor cats, all rescues, very easily!"
-Peter Wells adopted Roscoe in June 2014.
---
"I had the most wonderful experience adopting a dog from ARF this summer. Biscuit is a year-old terrier mix and the absolute sweetest girl, and she came house-trained, too. Everyone who sees her loves her, and she has settled in perfectly to New York City life with weekends in the country. She loves my two cats, although it's not entirely mutual! I can't say enough about ARF. They have an experienced, caring staff, and I highly recommend this rescue organization without reservation!"
-Bunny Goodwin adopted Biscuit in June 2015.
---
"Thank you for the wonderful experience of adopting Daisy. She has been wonderful. She settled into our journey across the States like a pro, as if she were part of us from the very beginning. Just wanted to let you know that we are truly grateful for how well cared for she was and how much she will be loved here. Lots of hugs!"
-Cyndi and Louella Voegeli adopted Daisy in August 2015.

---
"Over the last two years we've learned a lot from Beaker (like why he was named Rocket while at ARF!). We've certainly had some challenges, but he has made tremendous progress and has taught us to be more patient and to enjoy the small things in life. We couldn't be happier! Beaker is a great companion, whether we're running, hiking, or just sitting at home. We can't imagine our lives without him! Thank you for bringing him into our lives.
-The Cheryl and Ben Rubinstein adopted Beaker in September 2013.

---
"We adopted Tatze and Felix as kittens, thanks to Rita Del Rey, who rescued them from a feral colony on the North Fork. They have become famous on Facebook because they are so cute together that we are often posting pictures and videos of them. They are very sweet and give us lots of laughs!"
-Pola Rapaport and Wolfgang Held adopted Tatze and Felix in December 2014.
---
"Th
anks to all the caring adoption staff who spent time introducing us to Sage (formerly
known as Sadie). She's a great little dog! She seems quite happy and we are thrilled to have her. She's adjusting well and it's a perfect fit all around. Thanks for all you do!"
-Carol Saxe Buda and Dave Buda adopted Sage in February 2015.
---

"Finn has fit so wonderfully into our home, with 15-year- old feline brother Weezer and 11-year-old canine brother Harley (an ARFan as well!). He is so loving and purrs all the time. He is very well behaved and never uses his claws on people, animals, or furniture. He made a wonderful addition to our family! Thank you for the gift of Finn."
-Tom and Kerry Baker adopted Finn in December 2014.
---
"Though living with Buttercup, the bulldog whom we adopted from ARF in 2014, can be challenging, it has also been incredibly rewarding. A puppy-mill rescue, she has many quirks and behaviors that we'd never encountered before with our other dogs. ARF has been wonderful in terms of helping us to smooth through the rough patches. Watching Buttercup blossom has been deeply rewarding for us all."
-The Louchheim family adopted Buttercup in May 2014.
---
At first, CeCe was a little bit nervous and shy. I knew that was normal because it was a new place. I paid lots of attention to her. After a few days, she understood that I wanted to take care of her, and she started to be close to me. Now she sleeps on the bed with me. She is a lovely and quiet girl. We are so happy together. Thank you, ARF!
-Lu Cheng adopted CeCe in April 2015.
---
"We adopted two kittens from ARF that we fell in love with. We named them Hampton and Ashley. Sadly, Hampton was diagnosed with intestinal cancer at age 12 and had to be put to sleep. So there remained Ashley. While her personality remains understated, she has her ways of licking us, nudging us, and climbing on us when she wants to be petted or stroked. She even likes to butt heads every once in a while. She is now over 21 and has endeared herself to us totally. We thank ARF profusely for bringing our cats into our lives, especially our Ashley, who we hope will remain with us for quite a while to come."
-Susan and Michael Blum adopted Hampton and Ashley in the summer of 1993.
---
"We have had Ginger since she was old enough to leave the nest. She is an old lady now, 12, and we decided she needed a companion and successor. We went onto ARF's website and saw Ruby. Not only did we fall in love with her picture, but after reading her story of abuse and anxiety from her life in a puppy mill, we knew that our home was her home. It was love at first sight, but poor Ruby was afraid of her own shadow. When we brought Ruby home, she spent all her time following Ginger around or hiding under the stove. She is now off all her anxiety meds, runs up and down the stairs, and sleeps in bed with us! Our little girl is enjoying the life she so well deserves. Thanks, ARF, for saving this special little dog."
-Robert Gaudette and William Adams adopted Ruby in July of 2014.
---
"It's hard to believe, but it has been over a year since we adopted Matilda. Thank you for helping us through the process and saving her from an uncertain future in South Carolina. Matilda is a great dog in every way. She is sweet, smart, loving to people and other dogs, obedient and beautiful. We are so happy that she's a part of our family and feel so lucky that she waited for us to take her home."
-Nancy and Paul Buscemi adopted Matilda in June of 2013. (Photo includes Matilda's grandmother, Nancy Signorelli.)
---
"The most important and best decision we made was to adopt both Muffin and Lola. We originally
wanted just a black kitten but there was no way we could have left the other behind. They adore each other – and the mayhem and love fests they indulge in are just so precious – it's non-stop entertainment. We love these critters to no end. Thank you, ARF!"
-Renee and Sheldon Palmer adopted Muffin and Lola in July of 2014.
---
"I had just lost my beloved cat Iris and thought it would be at least a year before I'd be ready to adopt another cat. But a month later I had stopped at ARF for just a look and that's when I met Elliot and Mika (not pictured). It's been 8 great years, and I can't imagine life without them."
-Suzanne Wolfson, General Sales Manager, WEHM 92.9/96.9, WBAZ 102.5, WBEA 101.7, adopted Elliot in October 2006.
---
"Sally is one of the best things that has ever happened to me. No matter what, she immediately puts me in a good mood when I get home. Having a dog from ARF is pure happiness, it's just so great."
-David Rattiner adopted Sally in December 2011.
---
"Little Lucy came from ARF 15 years ago and she is still full of love & life at 18. She has been my inspiration to spread the word that people need to rescue a dog instead of buying one. Lucy has changed my life in so many ways and I am grateful to the Animal Rescue Fund of the Hamptons for all that they do. Please support them, because without them there wouldn't be so many happy dogs running around the Hamptons."
-Patricia Hurley, owner of Little Lucy's Canine Couture, adopted Lucy in 1999.
---
"We love him! Our boys (7 and 4) are taking great care of 'kitty. We wanted to share a photo of Andrew happily living in our home and his!"
-The Galarza family adopted Andrew in December 2013.
---
"One day in August, we decided to make a stop at ARF — just to see what dogs were there. Samantha was the very first dog we saw and it was love at first sight! She is an adorable addition to our family and we are thankful every day that we walked into ARF that summer afternoon."
-The Abbey family adopted Samantha in August 2013.
---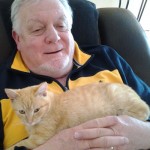 "I don't think we adopted Duffy. He adopted us. We went to the adoption expo unsure if we were ready for another cat after our boy passed away in February. But when we walked past his cage, Duffy stuck out his little arm and grabbed me. We knew he belonged with us. He has brought new joy to our family! Here he is on his favorite 'pillow.'Thank you for all the wonderful work you do with homeless animals."
-Pat Bremer and John Buchner adopted Duffy in April 2014.
---
"Zoey has finally learned to trust again after being rescued from a puppy mill. She is still fearful at times but after two years of love and patience she is turned into a real dog! I just wanted to thank everyone at ARF for taking such good care of her before I adopted her. It was such a wonderful feeling knowing so many people were passionate and routing for her to have a positive outcome. ARF is an amazing organization. This truly is a happy ending!"
-Andrea Weymouth adopted Zoey in January 2012.
---
Click here to read more testimonials.